Kverneland Group Italy - V Dealer Corporate Convention InnoMatch Meeting - a look into innovation
On the 9th of September 2015, 180 people joined the InnoMatch Meeting at Kverneland Group Italy to focus on innovations. This day was also the occasion to celebrate the 10th Anniversary of Kverneland Group Italy, a target also achieved thanks to the dealers who have followed the company. The General Manager Mrs. Eleonora Benassi opened the day telling the extraordinary history of the Company.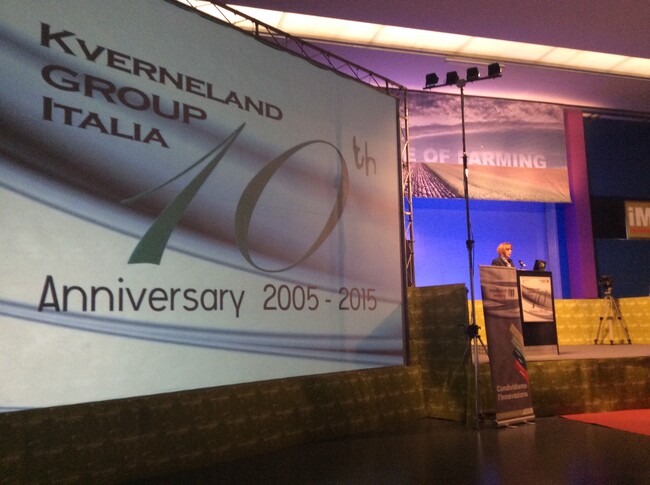 During the Meeting the CEO and President Mr. Dai Watanabe spoke about all efforts made within the Factories of the Group and about the high results achieved in terms of production efficiency. Mr Arild Gjerde, Executive Vice President Sales & Marketing of the Group, who is also the President of Kverneland Group Italy, gave an overview of all the awards achieved by the Group thanks to the launch of the fantastic innovations in the recent years. Thank you for joining us, it was an honor!
Eleonora Benassi invited the audience to look into Kverneland Group's innovations. In addition to this, Sandro Battini, Sales Director of Kverneland Group Italy, introduced the news that will be presented at Agritechnica 2015, giving particular attention to the concept of iM FARMING, Kverneland Group's concept for Precision Farming. Among the "news" is IsoMatch Voice Control, and the series Vicon RF4000 balers.
Dr. Agronomist Roberto Bartolini's spoke about "How to cultivate innovation" dealing with new cultivation methods and processes adopted by farmers developed in innovative agronomic laboratories at Kverneland Group Italy. He gave an insight to the new CAP (Common Agricultural Policy) and on RDPs in Italy (Rural Development Programmes), giving suggestions on measures that dealers can adopt in order to serve their customers in the best possible way.
During the dinner, awards for best dealers of the year were handed out. A special Thanks to all who attended this amazing Meeting!
Team Kverneland Group Italia
16th September 2015