New premises and location for Kverneland Group France S.A.S
On 16 November, Kverneland Group inaugurated its brand new premises of Kverneland Group France, at a new location in Marigny-les-Usages (45) near Orleans. The opening ceremony was combined with a convention program around the theme: "Feeding the Future".
Officials from the region, Dealers and Agri-media journalists, attended the convention, where Kverneland Group France, together with Kverneland Group/Kubota management presented the future of Kverneland Group in France.
During the convention, Kverneland Group emphasized the long established history in the French market with its Kverneland and Vicon product offering, and since 2013 extended with the Kubota implements range. ''This strong investment in the French market emphasises our commitment to grow the business and to our partnership with our dealers and farmers in France''; stated Arild Gjerde, Executive Vice President Sales and Marketing.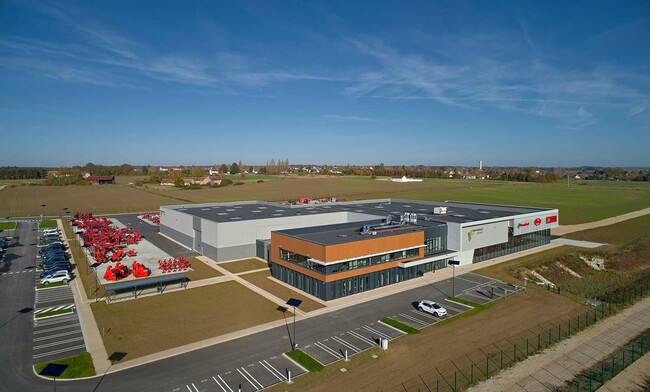 The new facilities in Marigny-les-Usages covers 7.2 hectares and is located 7 km from the former location in Saint-Jean-de-Braye.
Franck Adam, Managing Director of Kverneland Group France: "After 33 years on the old site, it was time to invest in new facilities to support our growth. We wanted a modern, practical and well-organized site with sufficient training capacity including direct access to the field area. With 4 hectare and test track for field spraying equipment, we can now combine theory and practice during the training.
With reference to our sustainable development commitment and the respect for the environment, and for ensuring the comfort of employees, this new building is certified by the BREEAM * label.
Fast Facts
83 employees including 45 based on site
7.2 hectare site
Floor area 5,300 m²
Exhibition hall 1,200 m²
Training 800 m² (including technical training workshop 450 m²)
1.000 m² m² workshop
Logistic storage warehouse 1.200 m²
200m test track for field sprayers
* BREEAM: ("Building Research Establishment Environmental Assessment Method"), is the most widely used method of assessing the environmental performance of buildings worldwide for infrastructure and building construction projects.
To download the Press Release as PDF: click here
16 November 2021