With red (and green) Kverneland colours in the blood
As a 4th generation descender of founder Ole Gabriel Kverneland, and over 40 yearlong working career in the company, Stein Kverneland has an interesting take on the past and the future of Kverneland Group. We sat down to hear his story.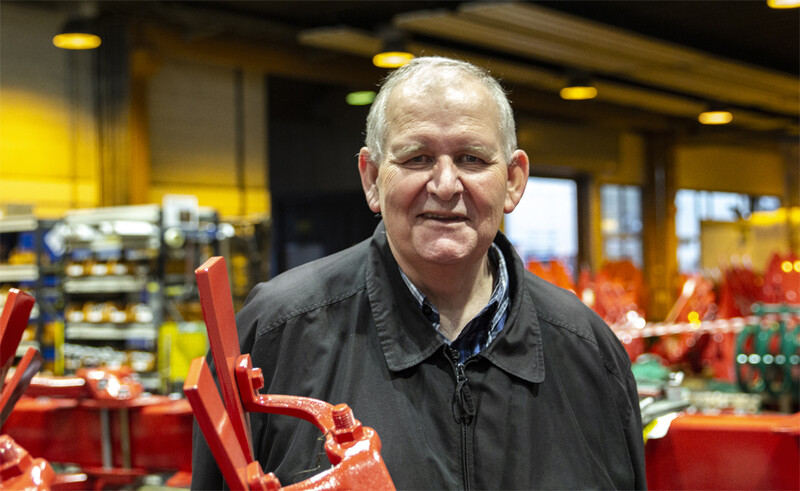 FACTS
| | |
| --- | --- |
| Name: | Stein Kverneland |
| Born: | 29.03.1958 |
| Title: | Product Manager |
| Work location: | Kverneland Group Operations Norway AS, Klepp, Norway |
| Working years: | 39 years in Kverneland Group (officially). 40 years including time in Globus Maskinfabrikk AS |
CV
| | |
| --- | --- |
| 1978 – 1990: | Tool Assembler/Production – Globus Maskinfabrikk AS, Brumunddal, Norway |
| 1990 – 1993: | Service Consultant – Kverneland Klepp AS, Norway |
| 1993 – 1995: | Product Manager Harrows and Cultivators (Sales Department) – Kverneland Klepp AS, Norway |
| 1995 – 1998: | Product Manager (R&D), Ploughs and Cultivators – Kverneland Klepp AS, Norway |
| 1998 – 2006: | R&D Manager, Kverneland Group Operations Norway, Klepp |
| 2006 – today: | Product Manager, Marketing & Product Management - Kverneland Group Operations Norway, Klepp |
- I started my working career in 1978, as a young man, straight out of high school in Brumunddal, Norway. I was only 20 years old when I got my first job in Globus Maskinfabrikk* as a Tool Assembler. Globus was producer of seed drills, stone handling equipment, harrows and cultivators, and the first acquisition done by Kvernelands Fabrikk AS back in 1955. In this job I learned the full range of production in the factory. I worked in almost all production departments, like welding, machining, service and testing. I was an all-rounder you might say. I worked on the development of new products, in the department where we built prototypes. I had the responsibility for service, plus technical documentation and user manuals.
The family of Stein Kverneland built the foundation the first 100 years of the company's history. His great-grandfather Ole Gabriel Kverneland (1st) was the founder of O.G. Kvernelands Fabrikk, which started to manufacture scythes in 1879. His grandfather, also named O.G. Kverneland (2nd) continued as Director of the factory from 1941 until 1964. His father, Finn Kverneland, was the Production Manager, before he became General Manager at Globus Maskinfabrikk. His uncle O.G Kverneland (3rd), nicknamed Bastian, was the third Director at Kverneland Fabrikk AS in Klepp from 1964-1980.
| | | |
| --- | --- | --- |
| O.G. Kverneland 1 (great grandfather). Founder and Director 1879-1941 | O.G. Kverneland 2 (grandfather). Director 1941-1964 | O.G. «Bastian» Kverneland 3 (uncle). Director 1964-1980 |
- My time in Globus lasted 10 years. The last three years I worked in the R&D workshop, building prototypes. In this period I was also responsible for service and technical documentation. In 1990, the times were tough at Globus, and the factory production of cultivators were moved to Fraugde Sanderum** in Denmark. Globus was closed down in 1990 due to over-capacity in the group. The last working days I was in Globus I was asked by my father, which was in dialogue with Johann Salte, the current Marketing Director of Kverneland Fabrikk in Klepp, if I was interested to take on a new role in the service department, as a service consultant. I gladly accepted, and moved from East to West coast of Norway.
International working experience
- I started working in the Klepp factory, but after only one week, I was asked to go to Fraugde Sanderum in Denmark. This came quite unexpected, but was great fun. Fraugde was the plough and cultivator factory that took over the production from Globus. My responsibility was to train the staff, transfer my knowledge, and to quality assure the machine production. I stayed there for six months. Since Kverneland Fabrikk had acquired Fraugde Sanderum, the cultivator and plough production was eventually moved back to Klepp in Norway, including me.
Stein Kverneland continued his career as Product Manager for both Cultivators and Ploughs in Kverneland in Klepp, Norway throughout the 1990s. At this time the company had a rapid growth period with several international acquisitions. This time represented the first steps towards real internationalism as the Group now incorporated production facilities outside of Scandinavia.
- I was also asked to work six months, part time, in Italy at the rotary harrow manufacturer Maletti S.p.A (Modna today). This company was acquired by Kverneland Group in 1992, and I was asked to go there to help them with quality issues. I was the classic commuter, and traveled up and down to Italy, every 14 days. It was fun, a little stressful - but I was younger back then, not 60, like today.
- During the 90s I was also asked to manage the R&D department in Klepp. This position was supposed to be temporary, but I ended up having that role for 8 years. In this period I was also a member of the Kverneland Klepp management team.
While working in R&D I got a lot of support and backup from Kverneland Group regarding my health situation. I have always been overweight, and in 2006 I got the permission to take a leave of absence for 4 months to join a lifestyle change program in Denmark – where they focused on improving quality of life by focusing on healthy food and activities. After the time here, I was in the best shape of my life! This is something I look back on with great appreciation towards the Kverneland Group Management.
Returning from Denmark, Stein was supposed to go back to his job as Manager of R&D, but was asked if he was interested in the vacant position as a Product Manager in the Marketing & Production Department. He thought this was an interesting opportunity and accepted the job offer.
- This is the same job as I have today, and have had since 2006. I have never worked outside Kverneland Group my whole career, because it feels good to work here, and I have always been able to develop and being challenged. Although my basic education was limited, Kverneland Group has given me the opportunity to learn the business from the start, to grow and improve in the various roles.
When asked about the best part about his job, he is quick to respond with a smile on his face;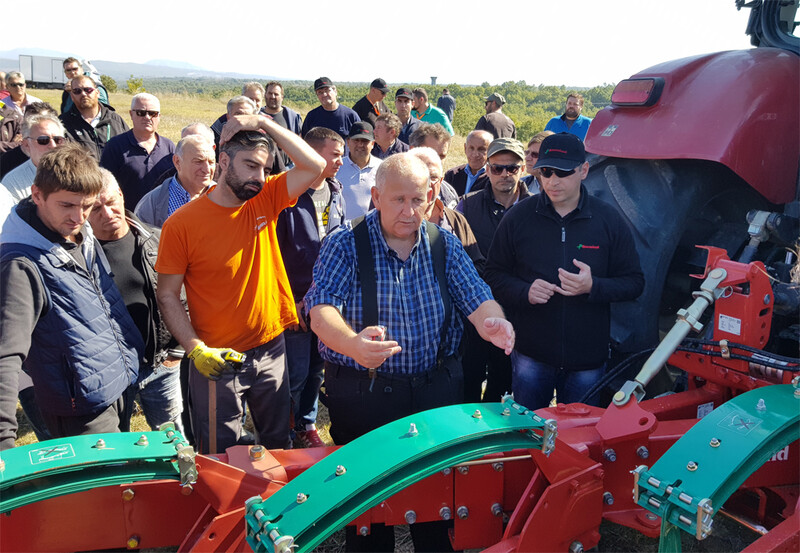 Combined demonstration and Plough training for farmers in Greece in 2017
- What I appreciate most about my job is when we have the chance to attend customer visits in new markets. We had a great experience in Serbia, 4-5 years ago. Me, and a colleague of mine, had been performing a Plough demonstration on a field, and were invited to join a village party afterwards. There was a farmer in town that had bought himself a nice big Fendt tractor, and the local tradition was to celebrate this purchase with the whole village. They invited in, served local food and wine, and celebrated their success with us.
"I really appreciate those moments when we meet our customers face to face. When it is basic, no fuzz, just the fields, the farmer and his machines."
Future career advice
Since you had a long career for the same company, do you have any advice for those who have just started their career, or considering a future career in Kverneland Group?
- What is important to think about if you get a job offer in this company (that you might think you are not qualified for) is to believe in yourself, and go for it. If the people, who offer you the opportunity, believe in you – so should you. No other person is better for the job than you are. Have faith, and develop with time. Kverneland Group believes in giving people with the right mind-set a chance, and that is good. In addition, the international community is great fun. You have the chance to have colleagues from all over the world, from different cultures, languages and ways of working together. It makes it interesting, and not at all boring.
Farming and future
- I have very good belief in the future for farmers, because there will always be a need for food. The industry is already transforming and getting digitalized, and the smart farming generation is already upon us. Even though it is different ways of farming today than in the past – there is one fact that has never changed. The soil still needs to be processed and prepared. And what we are going to see in the future is that we must reduce the use of pesticides. The only way to nourish the soil without pesticides is simply though mechanical processing, like Ploughing and Cultivation. The time for Ploughs and other similar implements will have a renaissance in the near future. So I look forward to the future. We just have to offer the newest technology and innovations to our customers – and I believe we are.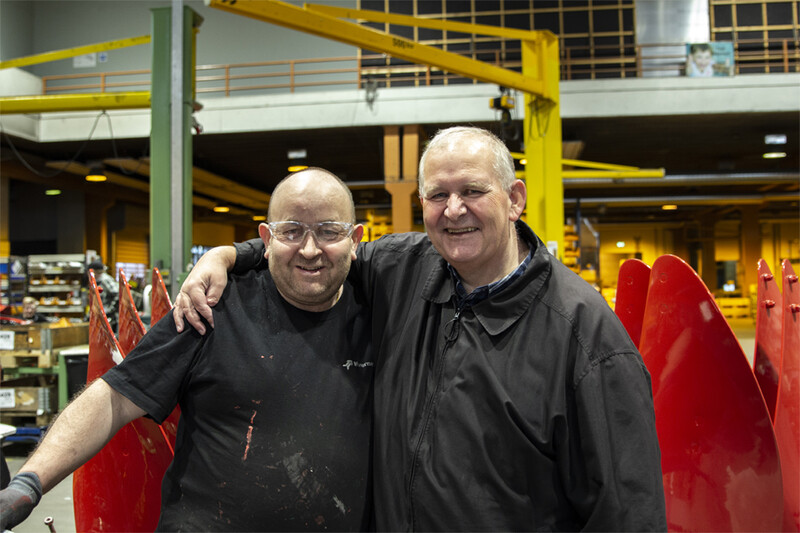 Stein Kverneland and his colleague Ivar Bore. Ivar works in the final assembly department, and has worked in Kverneland Group for 38 years.
When preparing for this interview, it was mentioned that Stein Kverneland was a person with red and green Kverneland blood in his veins. What is your comment to that?
- Well, apart from my family, and the company they established, I have never consider working for another company. The reason for that, after almost 40 years at the same place, is that I believe in the products we are producing, the impact we are making, to be able to serve the world's growing population. Also I have always had a good time in this company. I have seen colleagues who leave Kverneland Group for some time, but many return.
- I am a Kverneland, and this is the place I want to work.
*Globus Maskinfabrikk located in Brumunddal, Norway, was the first acquisition of Kvernelands Fabrikk, done in 1955. In 1973 Kverneland made its first foreign acquisition when buying Plovfabrikken Fraugde Sanderum** in Odense, Denmark. This event represented a milestone for future acquisitions abroad and marked the beginning of the modern, international Kverneland Group we know today.